Party sends solidarity message to Germany's Rebellious Music Festival
Written by: on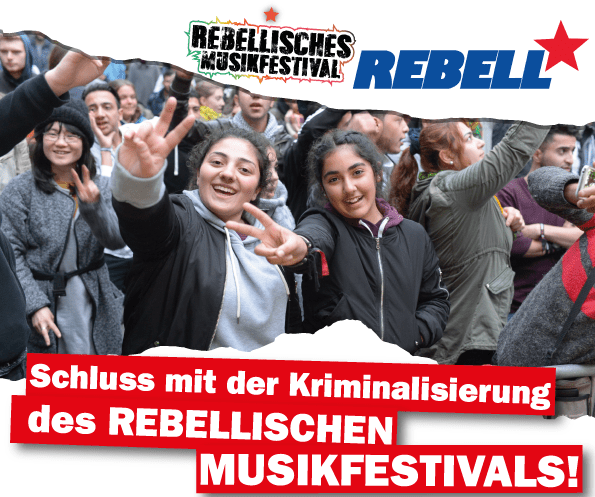 Nick G.
German authorities are threatening to close down this year's Rebellious Music Festival scheduled to start today at Thuringia, one of the 16 states of contemporary Germany.
About 50 bands are currently listed to appear. The theme of the Festival is anti-fascist, internationalist and revolutionary. The Marxist-Leninist Party of Germany's (MLPD) youth organisation REBELL is a prominent organiser of the Festival.
The pretext for police action to close the Festival is the presence of one of the two headline acts, the Turkish band Grup Yorum. The band's songs are about capitalism, imperialism, anti-Americanism and the Turkish government's policies, which they say penalise the poor. Eleven of the current members of Grup Yorum ("yorum" means "comment") remain in prison in Turkey, after being arrested last year. The cover of their latest, İlle Kavga (which roughly means "struggle no matter what"), shows instruments they allege were smashed up by police during a raid last year on the cultural centre the group use.
The band enjoys widespread popular support in Turkey. Just as Theodorakis inspired and encouraged anti-fascist Greeks during the Junta, so Grup Yorum holds a flame of resistance in the face of the Turkish reactionaries. Much of their music is on Youtube (for example their version of the resistance song Daglara Gel here: https://www.youtube.com/watch?v=Mih-SAO76Aw .
Turkish President Erdogan cites the band's support for the outlawed Revolutionary People's Liberation Party-Front (DHKP-C) as evidence that the musicians are supporters of "terrorism". The German authorities have jumped on board and say that they will not allow the band to appear at the Festival this weekend.
German police have threatened a massive police action with arrests and cancellation of the Festival if Grup Yorum goes on stage on Sunday. The managing police officer in charge already has a reputation for tolerating or even promoting fascist activities. Under his leadership a police action took place on 1 May 2015 in Saalfeld, during which fascists brutally beat up antifascist young people without the police stepping in!
Yesterday we received an urgent message from the MLPD for a message of solidarity with the Festival. Our message (below) was sent and is on the German-language website of the Festival .
The message follows:
"The Communist Party of Australia (Marxist-Leninist) condemns the threat to close this year's Rebellious Music Festival in Thuringia.
There is a dangerous trend towards fascism sweeping Europe and the festival is a significant contribution to anti-fascist, democratic and revolutionary mobilisation of the youth.
Provocations by the reactionary authorities, using the presence of progressive Turkish band Grup Yorum, must be resisted. Defiance of reactionary authority is a good thing, and we wish our German comrades and friends success. The time is right for such defiance.
Defend the Rebellious Youth Festival!
No criminalisation of progressive culture!
Yours in solidarity
Nick G.
Communist Party of Australia (Marxist-Leninist)
Print Version - new window Email article
-----
Go back