Renewable Energy Needed For People And The Planet, Not For Profiteering
Written by: on
Ned K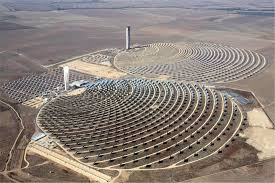 Recently the federal Turnbull Government has announced a proposal for a huge Snowy River hydroelectric scheme and funding of renewable energy schemes in South Australia.

At the same time the desperate SA Labor Government has framed its solution to the electricity reliability of supply issue in terms of an intervention into market forces. It has promised financial incentives to companies to invest in renewable energy in the state and it has also proposed full government or part government ownership of a backup gas-fired power station.

These announcements at federal and state government levels are partly motivated by winning votes for the next rounds of the parliamentary election cycles.
Class Struggle Plays Out In The Energy Sector
However they are also a reflection of the class struggle being played out in the electrical energy sector and across society generally.
On the one hand there is the working class with their allies leading the struggle for a just transition from a fossil fuel past to a renewable energy future. Examples are at Port Augusta where the whole community has been agitating for government support for a solar thermal plant to replace the closed coal-fired power station owned by Alinta, and in various regions of Australia where regional agricultural workers are fighting against coal seam gas exploration on prime agricultural land.

On the other hand there are the more far-sighted sections of the ruling class who can see the writing on the wall for the fossil fuel industry. They can see that continued pollution of the atmosphere from fossil fuel reliance will wipe the ruling class out too!

They are vigorously competing to get tax-payer funded projects for an extension of the renewable energy market.

Both the federal Turnbull Government and SA Labor Government have no intention of a planned, state owned and controlled electrical power generation and distribution industry as existed in SA under the Tom Playford era.

Capitalism has moved on since the Playford era and the dominant sections of the capitalist class are multinational corporations who have their eyes on the profits to be made from the renewable energy sector. It is telling that the decision to close Hazelwood coal-fired power station was made by a French owned multinational, Engie, not by either state or federal government. Similarly in SA, it was another multinational corporation, Alinta, who decided to close the Port Augusta power station and Leigh Creek coal fields to its north.

Multinational corporations are positioning themselves to dominate the renewable sector just as they did the fossil fuel based power sector. For example, Lyon and Downer groups have announced a $1 billion solar battery farm in the Riverland north of Morgan in SA. The Lyon group is backed by Mitsubishi and US hedge fund Magnetar Capital. Lyon is partnered by US battery company AES Energy Storage.
Tesla, software billionaire Mike Cannon Brookes, AGL Energy are all expressing interest in winning an SA Government tender to supply SA's power grid.

The ruthless private equity corporation Blackstone has expressed an interest in backing Magnetar.

On another front, Carnegie Clean Energy, backed by Samsung of South Korea is about to announce its partners for its bid to win the SA Government's planned 100 Mega Watt lithium iron battery storage plant which is to be powered by rooftop solar.

Turnbull chips in by announcing that the federal government will commit $110 million to the building of a solar thermal plant at Port Augusta knowing that the two most likely companies to build and own the plant are US companies Vast Solar and Solar Reserve.
So the list of multinationals competing for their slice of the renewables action goes on.

As it turns out it is better for the working class and allies that multinationals build a renewable energy sector in Australia that is sustainable rather than follow the reactionary line of Tony Abbott and pour money in to fossil fuels.

These multinational renewable energy companies are doing what Marx said capitalism does - continually revolutionising the productive forces. The only problem, as Marx explained, is that their interests are opposed to the working class in that for the renewable energy multinationals, maximizing profits will come before the people's interests.

How will this play out in the future? There will be struggle between these multinationals and the workers they employ. There will be struggle between the working class and their allies and these multinationals over the price of electricity and there will be struggle over where the surplus value created by workers in the renewable energy sector goes.

A good start for workers in this struggle has already begun with workers at Hazelwood and La Trobe Valley demanding a just transition.
Print Version - new window Email article
-----
Go back