Under the sun and southern stars – the O'Shea victory 50 years on
Written by: on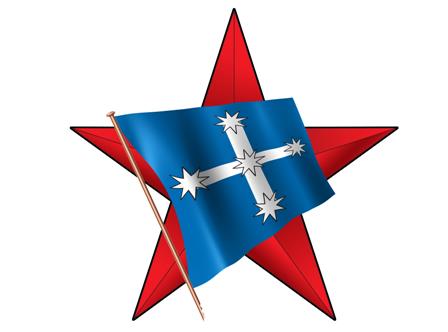 A speech on behalf of the Communist Party of Australia Marxist-Leninist at a Spirit of Eureka event celebrating the defeat of the penal powers on Friday, May 17, by Lindy Nolan.
"I pay respect to the Gadigal People on whose land we meet, and to Bidgigal leader Pemulwuy, whose clan alliance in 1790 launched the first battle of 150 years, continent-wide armed resistance to British invasion. It's beautiful to be here alongside true friends of the people, Humphrey, Denis Meredith and Barry. I thank Spirit of Eureka for allowing me to speak on behalf of Clarrie's party the CPA (M-L).
"On May Day, I gave a leaflet about Clarrie to a young worker. He saw my wrinkles and, apologised. "Our generation's let your generation down. You did all that fighting and all we care about is ourselves." I told him it wasn't true.
"My generation did not grow, as Clarrie's did, seeing maimed soldiers and fatherless families from the imperialist bloodbath World War One. We were not steeled in the Depression, when 30 percent were unemployed, and bank of England chief, Sir Otto Niemeyer, arrived with orders, "Cut worker's wages by ten per cent! Pay your debts!" Debts incurred fighting Britain's war. Workers to pay NSW premier, Jack Lang was sacked by the British Governor for refusing.
"No, when we were young Whitlam swept in to manage capitalism on giant waves of struggle, with Clarrie's the most powerful wave of all.
"Today we look as capitalism's longest ever Australian boom heads down the drain. Union membership its lowest for a century. Governments privatising anything their corporate masters can profit from.
The struggle itself
"So… The world's changed since a million striking workers busted Clarrie O'Shea out of gaol. But what a story to inspire us! One monster week made legislation outlawing strikes meaningless.
"Fines had accrued for years, while Clarrie ignored them. Finally legal summonses, also ignored. A media frenzy! 'Commo Clarrie' refusing to hand over union money. Union money hidden! (All over the joint, some buried on a NSW farm). Then, Where's Clarrie? In hiding!
"Workers listen and prepare… When all Australia knows what Clarrie is doing, he turns up.
"On May 15, 1969, five thousand workers and students, including Spirit of Eureka's Richard Buckdale, march with him to court.
"My mate Royce, later a Cockatoo Island Dockyard occupier, is a young bloke in a Mt Isa mine when someone comes in and says three words, "They've gaoled O'Shea". Royce and his workmates drop their tools, walk out. Round the country the same thing. All hell breaks loose!
"27 rebel unions almost bring Victoria to a standstill. All public transport stops, gas and power are running out. School and university students abandon classes. Cripes!!! Breweries and pubs close!
"In Sydney too.
"From one side of the country to the other, action grows.
"Many defy their own unions' instructions not to join the strike.
Planned for a decade
"What did it take for a 63-year-old with a heart condition, to go to gaol?
"For Clarrie, it was as natural as breathing. He'd dedicated his life to collective power of the working class, and in their ability to lead a united front. He knew it was time. Planned for a decade, it was the power of the informed, organised and mobilised working class and their supporters that brought victory.
"Clarrie's words: "It did not have any promise of some wage rise or some improvement in conditions. It was purely a matter of whether or not the employing class was to continue to have this weapon of shackling workers' struggle. It therefore called on the workers for sacrifice for no apparent immediate benefit."
"Lawyers including CPA ML's Ted Hill and Lionel Murphy later Whitlam's Attorney-General, advised on legal and parliamentary tactics. But the key was mass struggle and mobilisation by workers themselves.
Trade union politics
"Clarrie's party played a huge role in breaking trade union inertia. For 13 years, breaking the penal powers was on agendas at every union executive meeting, delegates meeting and members' mass meeting. The ACTU passed motions and did zip.
"Oh, I forgot. They negotiated, and begged… Nothing about mass mobilization. Sound familiar? Not if you're in one of the unions who were on strike on May Day or in a union prepared to fight. But for the rest of us in Sydney, we've been on that miserable diet of begging for nearly a decade.
"When Clarrie was gaoled, ACTU President Albert Monk wouldn't discuss it. The biggest industrial action in Australia's post war history, one in 12 Australians on strike. ACTU urging calm. But action was growing, not slowing, welding with mass student protests against the US imperialist war on Vietnam. The bosses squeezed Monk to help sort it out. Anonymously, his buddy handed over cash for the fine.
"Exposed, he reckoned he won the lottery. Ha! It was ASIO. Same capitalist trick the year before. An anonymous "donor" paid fines for rebel stonemasons prepared for gaol in WA.
"No wonder Clarrie was scathing of "the official trade union movement." Clarrie condemned unions where the buildings, the assets, the union jobs become more important than members' ability to act collectively. "Why should there be unity with people who serve the boss so well?" he wrote.
"From 1965, CPA ML founding Chairperson, Ted Hill's deep criticism of trade unionism and parliamentarism, Looking Backward: Looking Forward informed O'Shea's militancy and others in his party and its collective leadership.
"Finally came victory "Although I was presented as the central figure," Clarrie said, "the truth was that it was the workers and students who were the central figures. They played the main part, they secured my release from gaol and no-one else, they led the Government into abject calls for restraint."
"Capitalism was battered, but remained intact. Fifty years in May. Long enough for corporations to win back lost ground and more. It's their system. The Business Council now sets the corporate agenda in Australia and ensures it's carried out.
"Hill and Clarrie knew unions at their best teach workers to understand and assert their collective power. Without them, Marx said, workers would be reduced to the level of broken wretches. We learn strategy and tactics in trade union battles. But unions operate within capitalism. They fight for a better deal from corporations, never challenge the right of corporations to make profits from us, or rule us through their capitalist system. So trade union thinking, its ideology, chains workers to the capitalist economy
"Nowhere clearer than Queensland union leaders lining up with Adani. Adani's new boss Lucas Dow recently sacked 700 Queensland coal miners, then 103 at South32's Appin mine, and was part of a multinational conspiracy to sack 30% of Port Kembla Coal Terminal workers, using lockouts and South32 fifo scabs. Michaelia Cash worked Adani's law firm, Freehills, before parliament. It helped draft Work Choices. It profits from 43 contracts with the ABCC. Great allies. The end result of an ideology that accepts capitalism.
"Clarrie wrote "I believe you must end capitalism altogether: it is the system which gives rise to the never-ending economic struggles."
"Capitalism proved far more resilient than he thought. But I invite you to read his words immediately after the dispute, and read of his life in struggle. We've two booklets up the back.
Lessons
"We woke up this morning in a capitalist Australia. It'll be the same tomorrow, the next day and the next, no matter who wins the election. The system moves seamlessly from administration to administration. There's a tactical advantage in a Labor victory. But leave out illusions. Labor's a capitalist party. Always has been. Tactics change, but whoever wins, our key strategies will still be the same, to create collective unity in action. To create alliances, to drive wedges into capitalist disunity.
"Above all, to respect and listen to the masses of everyday people. United, understanding the tasks ahead, they're invincible. So said Clarrie.
"Again, and again workers have fought and won, and seen the corporate rulers demolish victories through new laws, fines, courts, police and gaols and their lying propaganda. Even if we were strong enough to win a victory like Clarries, and we're not yet, don't think that victory would be there for your kids. For that, capitalism has to go. We need a new system with the people in command.
"Forget formula and dogma. We're in new territory, constantly changing. But people are impelled to resist. So, be patient, analyse the conditions.
"Hold tightly the key link of independence, flowing through our history like the blood of struggles fought under the sun and southern stars.
"Two flags flew from the Titan Crane on Cockatoo Island Dockyard thirty years ago. The land rights flag, the Eureka flag.
United, this land is ours to win.
See also: https://www.reddit.com/gallery/v6j7dk
Print Version - new window Email article
-----
Go back