Listen to the cleaners in fight against Coronavirus
Written by: Ned K. on 16 March 2020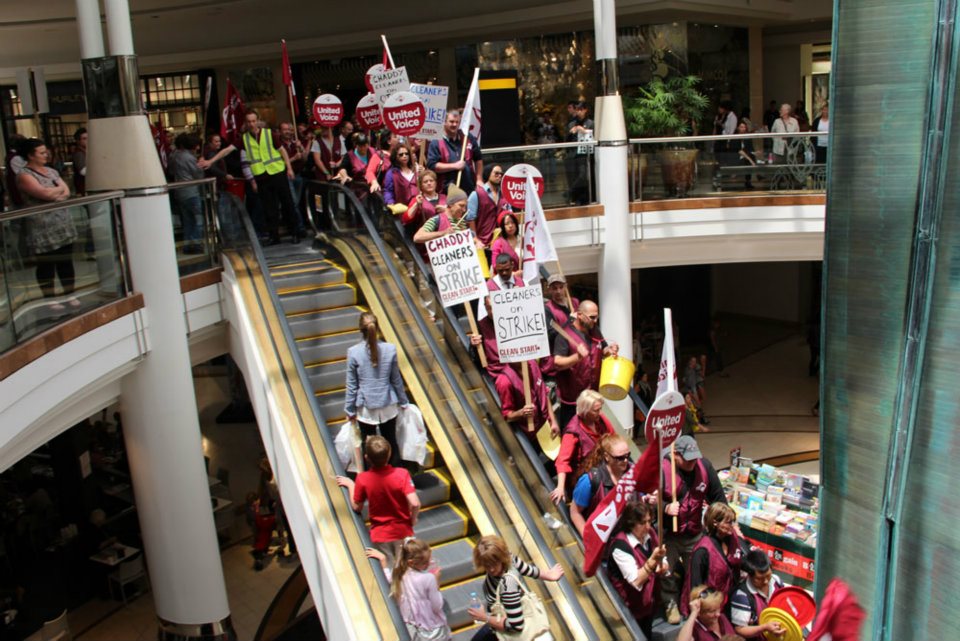 Over a decade ago, cleaners and their Union (now United Workers Union) campaigned not just for a better wages and working conditions for themselves, but about the implications for the whole society if cleaners were not given the materials, training and the time to clean thoroughly to prevent the spread of disease, germs and viruses through buildings ranging from schools and universities to office towers in big cities to big shopping centers that dominate the retail industry, airports and the inside of passenger planes.
In the cleaners' campaign, Union delegates and press releases and speakers at public rallies outside buildings across the country repeatedly criticized major property owners, governments and their immediate cleaning contractor bosses for not giving them enough time to clean properly. They cited research from scientists that showed a direct correlation between the spread of disease, germs, bacteria and viruses initiated by human touch of surfaces by hand. For example, in shopping center food courts, cleaners said they had no time to properly clean table surfaces. Researchers investigated the cleaners' claims by taking samples of minute particles left on food court tables and toilet seats and analysed them.
Similar studies were conducted by researchers of particles on office desk surfaces, door knobs, computer key boards and the like.
The research results were made public and reports of their findings given to property owners and governments. The results confirmed the direct relationship between inadequate cleaning of surfaces and the transfer of germs, bacteria and viruses by human touch.
The cleaners in their campaign after struggling for two or three years won significant pay rises. Unselfishly they did not settle for this. They demanded more time to provide high quality cleaning and fair workloads. They won small concessions on a higher minimum number of hours per shift from two to four, which the property owners and contractors tried to subsequently undermine by employing less cleaners.
These demands went to the heart of the matter as to whether property owners really cared about the level of hygiene cleaning in their buildings.
The property owners failed miserably. They refused to enter into any agreements with the cleaners and their Union on minimum staffing levels and funding of materials for adequate hygiene cleaning.
Fast forward to 2020 and the crisis of the Coronavirus. We see multinational property owners like Investa quoted in the Australian Financial Review on Friday 13 March to be responding positively to tenant demands for "one off" infection control cleans!
We see on the TV pictures of infection control cleaning teams cleaning the offices in Sydney where Cabinet Ministers meet and where Peter Dutton who had become infected with the Virus had meetings.
Spread of the Virus from human contact with infected surfaces is recognised by the WHO.
So, if you want to contribute to containment of the Coronavirus, keeping a safe distance from other people is important for sure, but equally important is demanding that owners of buildings you work in or frequent, give cleaners the on-going time and cleaning materials to maintain hygienic buildings.
Print Version - new window Email article
-----
Go back