No celebrations for this anniversary!
Written by: Louisa L on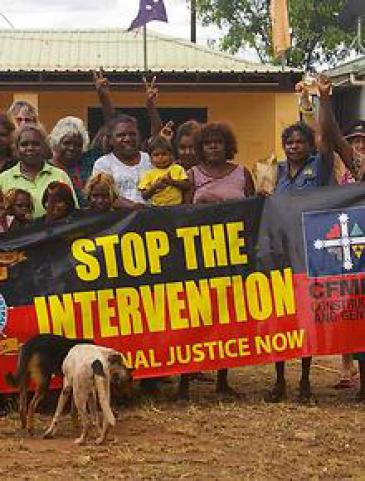 June 22 this year is the 14th anniversary of the Northern Territory Intervention which has blighted the lives of First Peoples in the Territory; opened it to even further exploitation by the mining and gas multinationals; and been a testing ground for corporate backed attacks on peoples across the continent and its islands.
First Peoples have survived the first waves of invasion, and they are determined to survive the Intervention.
On Sunday 20th, an online conference brought together sixteen mostly First Peoples' presenters who have lived experience of the Intervention, or who have stood against it since its inception. It concluded with a session last night (June 21).
It was moderated by ABC's Larissa Behrendt, an outstanding Kamilaroi-Euahlayi journalist, film maker, academic and activist. The ABC will use some of the material in Larissa's radio program Speaking Out in coming weeks.
The Alice Springs based Intervention Rollback Action Group, Victoria's Concerned Citizens and Stop the Intervention Collective Sydney combined forces to organise this powerful conference.
In the coming days, we will put some of this material together in an article for Vanguard readers.
Print Version - new window Email article
-----
Go back