Neglect – Where Current Funding leaves Aged Care
Written by: John G. on 5 May 2022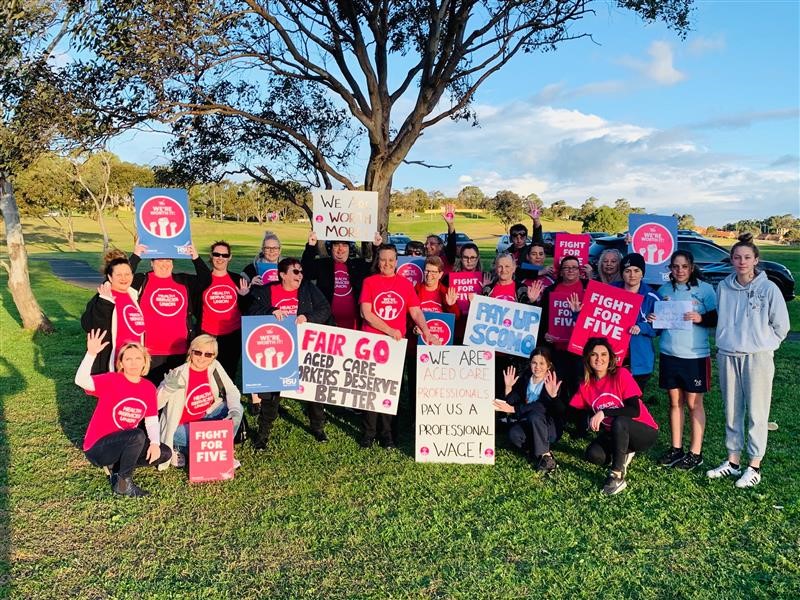 Neglect was the title of the interim report of the Royal Commission into Aged Care Quality and Safety issued in October 2019.
The full report issued in February 2021 confirmed nothing had changed. Their recommendations remain lists on pages of their report.
Families of Aged Care residents, Unions and various others are campaigning for the situation to change. Strikes and protests have become features of the aged-care landscape in the last year. Appeals for changes delivered through delegations to Canberra, meetings with ministers and shadow ministers, with senior public servants, protests in Canberra and around the country, have fallen on deaf ears.
Be careful of Government-Sponsored Elders Consultative Bodies
Organisations of seniors themselves have been cold shouldered by government to an extent, through the government-sponsored dominance of COTA, the Council On the Aging. COTA Australia is pointedly a Council ON, not OF, the Aging because they don't have one elder from an organisation composed of the aged themselves on the board. The COTA Australia Board is composed of a range of current or former public servants, business people and policy experts. COTA Australia boasts that it speaks for the aged "on around sixty national government, business and civil society advisory and policy development bodies at any time, meets regularly with Federal Ministers and senior public servants, and is the leading media spokesperson for the rights and interests of older Australians".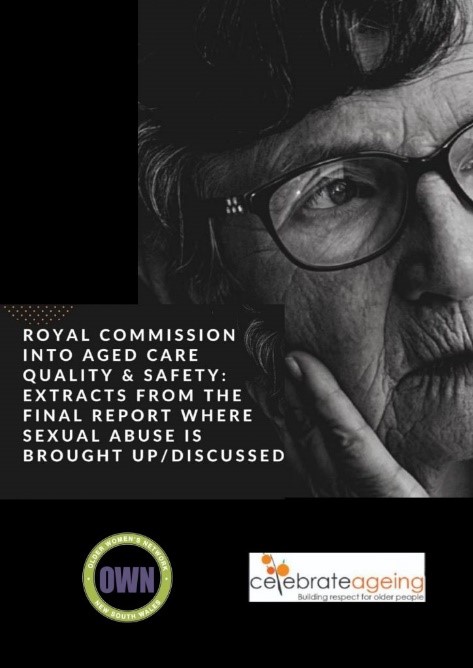 Its not like elders' organisations are hard to find. Just a quick review in NSW identifies numerous elders' membership organisations. A lively Combined Pensioners & Superannuants Association of NSW has 65 suburban and regional branches, 14 Culturally and Linguistically Diverse Community branches as well as publishing a monthly journal, The Voice since 1958. Other organisations active in NSW include the Association of Independent Retirees (A.I.R.) Ltd, Carers NSW Limited, Older Women's Network, Retirement Village Residents Association, War Widows' Guild of Australia NSW Ltd and a number of retired union members organisations. Such organisations are shunned or shunted through the COTA filter in consultations and negotiations with Federal government.
Current government funding, with limitations on co-payments, doesn't provide non-profits with enough to pay the wages that worker's lives demand. The funding shortfall is consistent across aged care services. Funding levels don't support the needed staffing, nutrition needs in homes, necessary hours of care for each resident, nor liveable wages, and that's not even considering profits creamed off by private operators and the more intense neglect prompted by it.
More money is needed.
The Royal Commission reported in 2019 that total government funding of aged care needed to increase by at least $10 billion per year, around 0.5% of GDP.
The recommendations themselves may have shortcomings. Commission proposals normally fall short. Nonetheless they would be a good start to overcoming the heavy neglect currently imposed on the elderly.
Neither Major Party is saying they'll put up the money needed
The Royal Commission report put forward two ways those funds could be found. The Australia Institute issued a response identifying three other ways the money could be found (See Addendum below). The Australia Institute proposals lean more towards making the monopoly and foreign imperialist corporates pay, taking back a bit of the billions they are exploiting from Australia's workers.
Not one of these options has been taken up by either the Coalition or Labor.
The Coalition has budgeted to increase funding by $17.7 billion over 5 years, $33.3 billion short of the mark without looking into effects of inflation.
Labor has put forward policy with an unstated amount of funding. Labor declares they would fund a wage rise conditional on the outcome of Fair Work and NSW Industrial Commission hearings, and fund 24/7 nursing staff at all nursing home facilities, without comment about AINs or Personal Carer numbers.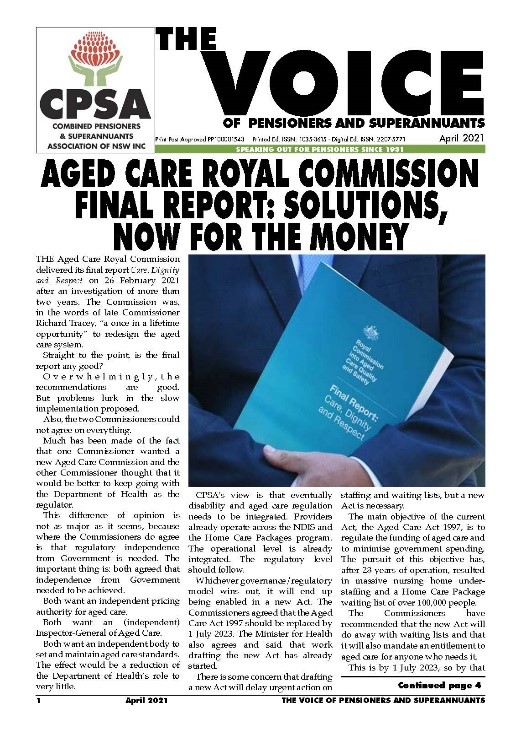 ALP policy funding depends on 'independent' umpires, both bosses' commissions. They can be relied on to be 'responsible' by dudding the workers and aged. No doubt there will be a scrap, crumbs of a rise, but nothing like 25%. Funding of it is a bit unclear with no promises to provide $10 billion a year, the least needed to improve the sector.
The Greens have a more cogent policy heading towards a comprehensive one for improvement of aged care services and other support for people across the board. On Aged care the Greens propose $260 million extra for the home care area to eliminate wait times, a 25% wage increase, 30 hours a week care in aged care homes (up 50%), a nurse on 24/7, staff/resident ratios, phase out for-profit operations and some other elements.
They propose their policies be funded by a 40% superprofit tax on all corporations with more than $100 million turnover in Australia, plus implementing a mining super tax originally designed by the Henry Tax Review, as well as rejigging the petroleum super profits tax. Their proposals are aimed at monopoly and foreign imperialist corporate capitalists not getting the lion's share of the benefits from exploiting the publicly-owned resources and the workers in many industries.
The Greens calculate those financial measures would reap $430 billion over a decade. They claim it's all verified, in so far as that's possible, by the Parliamentary Budget Office.
That's plenty to pay for a hell of a lot more than aged care needs, to provide for a qualitative lift in many services, public sector wages, and building up the country.
But the Greens policies are mirages, no chance of them getting to implement them but their proposals are a valuable outline of what can be done.
Not losing means fighting
Meanwhile on the ground, families, elders themselves, and workers are maintaining the rage and fighting for the situation to be changed. They are confronting the resistance of monopoly and foreign imperialist corporates who have government in their pocket.
They are on the move and not waiting for governments or courts to throw them some crumbs. They have seen what waiting for politicians to act gets them, sweet FA.
As new hardships hit people, no doubt some concessions will be made to slow down the struggle against neglect of the aged and the hardships faced by the workers providing them care.
The issue of show us the money is front and centre. Those in the fight sense there is money to burn around. More will identify that the monopoly and foreign imperialist corporates have the billions that are needed to look after the aged and those who care for them.
The struggle can only gain strength as the target, the big corporates, becomes clearer in people's sights
Meanwhile more and more people, families, elders, workers and many across the community are realising the truth of the maxim: If you don't fight, you lose!
See Addendum below:
Addendum
Various Ways to Fund a $10bn-a-year Improvement to Aged Care Services
The Royal Commission into Aged Care Quality and Safety suggested two ways to fund the $190 billion a year of improvements it recommended to aged care services.
Increase the Medicare levy by 1%. That would apply at a flat rate to all taxpayers. People on low incomes pay the same portion of their income as the rich. Basically this would make the people pay when their money's short. It doesn't make the rich monopolies pay.
Adjust existing personal income tax rates and thresholds. Anyone earning under $170,000 per year would pay less new tax than under a 1% flat-rate levy (those above that income would pay more). It's fairer but everyone shells out and the rich get let off lightly and the corporates pay not a zac.
The Australia Institute in a report Funding High Quality Aged Care Services published in May 2021 identified 3 other options which are more pointedly aimed at getting the funding from the rich and the monopoly corporates. The full report can be seen here.
Retain the 37% Personal Income Tax Bracket. The Commonwealth government legislated income tax cuts for high-income earners to start in 2024. The Coalition and Labor are committed to them. The biggest cuts, the elimination of the 37% tax bracket, applies to incomes between $120,000 and $180,000 per year. It reduces federal revenues by at least $16 billion per year. Over half the total benefit is captured by the richest tenth of society. 80% of savings are captured by the richest 20% of taxpayers. Stopping the cuts would hit some wealthy Australians but let the monopoly foreign corporates off.
Make the Rich Pay, Take Back some of the Billions they Exploit from Workers
Increase taxation of investment & capital income. For example, capital gains income for investors is taxed only half the rate of wages and salaries. Dividends from shares are also taxed at much lower rates. Most of the money foregone by government is pocketed by the richest 5% of taxpayers, owners of a disproportionate share of financial wealth. Halving those capital gains and dividend preferences, increasing the capital gains inclusion rate to 75% from 50%, and allowing franking of 50% of imputed company taxes instead of 100%, would increase federal income by over $10 billion per year, enough to fund aged care reforms. Again, it hits wealthy Australians but the rich monopoly and foreign corporates are let off lightly.
Increase Company Taxes. The corporate share of national income reached an all-time record high during the pandemic – over 30% of GDP. But company taxes declined, thanks to various credits, incentives, and loopholes. Measures to strengthen company tax collections (higher levies on major banks, reforms to petroleum taxes, elimination of access to offshore tax havens, and proportional revenue taxes on global digital giants like Google and Facebook) would raise over $10 billion a year. This one seems targeted at the big monopoly and foreign corporate capitalists.
A bit more work is needed to clarify the best way to go but the last couple, more heavily taxing investment and capital income, and increasing company taxes for the big monopoly and foreign imperialist corporates, fit the bill of Making the Rich Pay and taking back a bit of the billions they are exploiting from Australia's working people.
Print Version - new window Email article
-----
Go back