For a Successful 1st ICOR Women's Conference in Tunisia
Written by: CPA (M-L) on 29 August 2022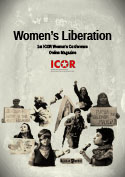 The international organisation to which we are affiliated, the International Coordination of Revolutionary Parties ad Organisations (ICOR) will open its First ICOR Women's Conference in Tunisia on September 3.
The three-day conference will bring together hundreds of women from all corners of the globe to discuss further developing the revolutionary movement against imperialism, war and fascism, and for the full emancipation of women promised by the socialist movement.
As a precursor to the conference, ICOR has released a small booklet with contributions on women's issues by comrades from Peru, Morocco, Turkey, France and Germany.
We strongly recommend that these articles be read by progressive and revolutionary Australians, and wish the Conference every success.
The booklet can be accessed from our website's drop-down menu item Media and Archives/Booklets or at the link here.
Print Version - new window Email article
-----
Go back