Japan increases military budget to better serve US war plans
Written by: (Contributed) on 20 September 2022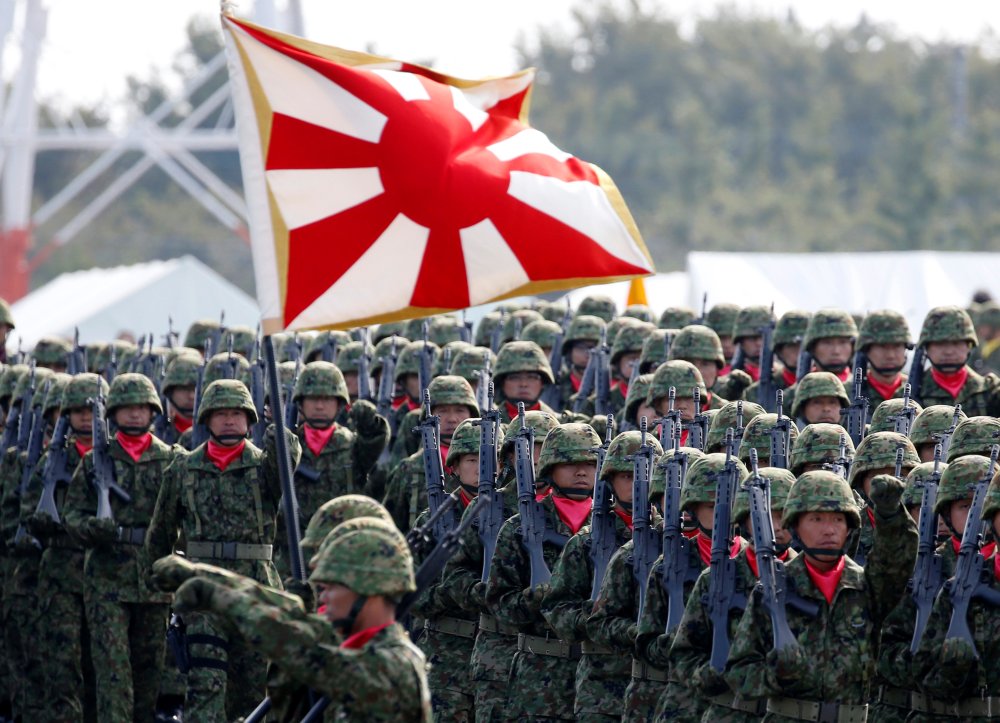 (Source: nationalinterest.com)
Planning for a large increase in Japan's defence budget has shown how the Pentagon have elevated the country to a major hub for 'US interests' in the northern part of the Indo-Pacific region. A high-level diplomatic meeting in the headquarters of the US Indo-Pacific Command in Hawaii has also revealed sensitive military intelligence-gathering considerations in preparation for likely 'real-war scenarios' in any one of several very sensitive areas, using facilities based on Japan taking a leading role.
In early September the Japanese Defence Ministry announced they had requested more than $40.4 billion for its budget next year. The announcement followed a five-year military plan for forthcoming budgets to be substantially increased. The defence budget for 2021 totalled $38.6 billion. (1) References in the announcement also included funding required for about a hundred different projects, which were used by the military. (2) There was little publicity attached to the projects, indicating they were likely to be intelligence facilities.
The moves have clearly shown how the US has focussed its sights on using Japan for US-led military operations in the northern part of the region. Japan's military were previously bound by Clause Nine of the pacifist constitution and were only for use in self-defence; they now regularly join regional US-led military exercises in preparation for 'real-war scenarios'. (3)
The moves have also been accompanied by a high-level diplomatic visit to Japan by Israeli
Defence Minister Benny Gantz. An official media release stated the two countries were planning to develop cyber technology potential, and 'exploring ways for the two countries to co-operate on defence'. (4) Israeli defence exports to Japan in 2021 rose to a record $11.3 billion. (5)
In recent times the US has made the Indo-Pacific region central to its global military planning: it is the most dynamic sector of the global economy and where 'US interests' have been seriously challenged by China. In recent weeks US war-ships have again sailed through the Taiwan Straits, raising diplomatic tensions with China.
A recent official statement from Britain's national security advisor, Stephen Lovegrove, noted, in fact, 'the West risks stumbling into nuclear conflict with China … the rise of hypersonic missiles, developments in cyber-warfare, space technology and genetic warfare had all made the world less safe'. (7)
US-led regional intelligence-gathering has also brought related difficulties to a head: resting on changing diplomatic relations, the intelligence agreements and facilities have, in some cases, become highly problematic.
A forthcoming meeting called by US national security advisor, Jake Sullivan, where he has planned to meet South Korean and Japanese counterparts in the regional command in Hawaii, for example, has revealed problems arising with a sensitive military intelligence agreement. (8) The US position of elevating Japan as a northern regional hub for 'US interests' has included re-arranging their sensitive General Security of Military Information Agreement (GSOMIA); the original agreement was based on the US being at the centre with South Korea, Japan and Australia acting as spokes. The three spokes were based on equal footing.
As the US has elevated Japan as a major hub, it has had some bearing upon the previous position of the Defence of Japan Doctrine which included US military being based in South Korea specifically for rapid deployment. Diplomatic relations between Japan and South Korea are hardly cordial, with problems dating back to the Second World War.
South Korea has now been demoted inside the GSOMIA alongside Taiwan, Singapore, Vietnam and others. (9) The recent decision by Taiwan to sign off a fourteen per cent increase in their defence spending for next year can be seen in the light of the changing nature of the US-led defence and security agreement. (10) The fact the GSOMIA intelligence-gathering facilities are subsequently used for planning 'real-war scenarios', is a dangerous development as regional diplomatic tensions escalate. Taiwan, for example, has planned to deploy drone defence systems in 2023, and the US has apparently considered providing them with Vampire counter-unmanned aerial systems, 'designed to shoot down low-flying aircraft'. (11)
The proposed Taiwan system is clearly planned for use in the future; a recent statement from President Tsai Ing-wen referred to the 'grey zone warfare conducted by Beijing to probe Taipei's defences and provide a pretence for conflict' and added 'We restrain ourselves but that doesn't mean we won't hit back'. (12)
The re-arranging of the GSOMIA has also led to disagreements between South Korea and their diplomatic positions toward Japan, which can best be described as, at times, fraught. While the US expects all participants in the GSOMIA to be supportive of their Indo-Pacific Strategy and accept Japan as a leading regional player, South Korea has been reluctant to accept dictat without 'a concrete list from the US in terms of how it is supposed to participate in the Indo-Pacific Strategy'. (13) One can, therefore, but wonder what the main agenda item will be at the forthcoming Hawaii meeting. And what the likely outcome will be for Japan.
Australia should really consider an independent foreign policy before the country is drawn into regional US-led conflict with China in any one of several sensitive areas of the Indo-Pacific! The likelihood of a 'real-war scenario', remains very real indeed!

1. Japan's military makes largest-ever budget request, Russia Today, 1 September 2022; and, $790 bn sought for Japan's fiscal 2023 budget, defence spending to rise, Japan Business Standard, 1 September 2022.
2. RT, ibid., and, Japan's military makes largest ever budget request, Big News Network.com, 1 September 2022.
3. See: Japan to extend military reach beyond self-defence, The Age (Melbourne), 29 April 2015, which has provided information about the US-led planned transition for Japan from 'its own self-defence … to … guidelines geared exclusively toward the defence of Japan with new rules that eliminate any geographical restriction'.
4. Japan's military budget may become third largest in world, News.am., 2 September 2022.
5. Ibid.
7. West 'risks walking into nuclear war', Australian, 29 July 2022.
8. Taiwan warns China of counterattack, Australian, 2 September 2022.
9. See: The reasons behind Washington's push for GSOMIA., Hankyoreh, 12 November 2019.
10. Taipei wants jaw-jaw on strategy clarity, The Weekend Australian, 27-28 August 2022.
11. Taiwan shoots down its first Chinese drone, The Weekend Australian, 3-4 September 2022.
12. Australian, op.cit., 2 September 2022.
13. Hankyoreh, op.cit., 12 November 2019.
Print Version - new window Email article
-----
Go back