Exercise Bushido Guardian links Australian and Japanese militaries
Written by: (Contributed) on 24 January 2023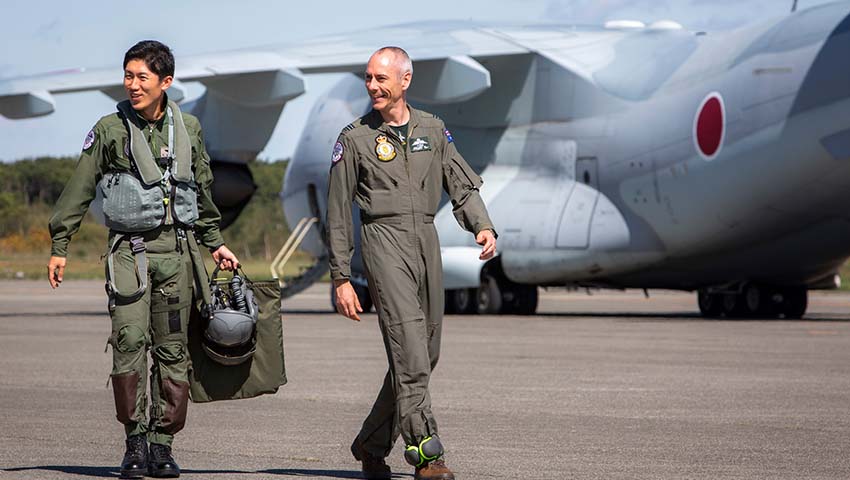 (Above: Japanese and Australian airmen on echange flights in 2019 Exercise Bushido Guardian. Photo credit - Defence)
The announcement that Australia will be joining Japan's Exercise Bushido Guardian 2023 can be regarded as part of a growing trend of closer liaison between the two most important hubs for 'US interests' in the Indo-Pacific region. The joint exercises have occurred since 2019.
Some other, related matters, also show the unequal nature of the triangular diplomatic relations.
The announcement coincided with Japan also planning to use the ADF for 'rotational deployments' alongside US counterparts and provides further evidence of US-led diplomatic hostilities and war-mongering in the Indo-Pacific region. (1) The announcement was made by Japan's Ambassador to Australia, Yamagami Shingo, who also stated that Washington, Tokyo and Canberra 'needed to work closely together' in the face of rising competition from China and recognition of a changing balance of forces. (2)
The present Japanese government of Prime Minister Fumio Kishida has also approved a major overhaul of defence policy which has included a doubling of its defence budget; the move is explained as part of US-led military planning to elevate the alliance with Japan as the Indo-Pacific Strategy and a 'global alliance'. (3) Japanese troops are now being trained for deployment elsewhere, and not for strictly defensive reasons.
The US has also announced plans to re-organise existing troop organisation on Okinawa into formations of rapid-response groups of 2,000, equipped with sophisticated weaponry, for deployment 'on islands south-west of Okinawa, less than 160 kms from Taiwan'. (4) Okinawa, despite being a small island, is home to 32 US military base facilities and most of the total deployment by the Pentagon to Japan. (5)
During the past decade many of the small islands in the region have taken on greater geo-strategic significance for a variety of reasons, including contested sovereignty, large-scale mineral deposits and natural resources and the Pentagon reusing its former Cold War policy of Island Chain Theory. In 2014, for example, Japan announced it was intending nationalising about 280 of an estimated four hundred remote landmasses and designating them 'important national territories'. (6) Japan is currently in dispute with South and North Korea, China and Taiwan, and Russia, over the sovereignty of various islands, which adds to the volatile nature of regional diplomacy.
Examples of hotly contested sovereignty of some of the islands has included the Senkaku/Diaoyu Islands, which are jointly claimed by Japan and China, and the Takeshima Islets which are contested between Japan and South Korea; the fact Japan's education ministry have also introduced teaching manuals claiming the contested territories were 'our inherent territories', has led to controversy amongst number of Japan's neighbours that the government of Shinzo Abe was planning 'to put a gloss on Japan's war-time history'. (7)
Contested islands, to the north of Japan, in the Kuril Island Chain, which were occupied by the former Soviet Union and now Russian Federation, have also added to the diplomatic problem. Russia maintains a military presence on the islands, with a headquarters on Iturup Island; anti-aircraft systems are based on Tor and Buk together with a submarine project, Varshavyanka. (8)
The Kuril land-masses also form the northern part of the US-led present Cold War Island Chain Theory now used to contain and encircle China's access and egress into the wider region, with direct military implications, adding to the sensitivity of the whole area.
The stated 'strategic alignment' of the US-Japan military alliance has also included Australia: recent high-level diplomatic meetings have announced 'scaled-up defence co-operation and established a vital new basis for enhanced interoperability between Australia and Japan through more sophisticated joint exercises and multilateral exercises with partners and mutual use of military facilities'. (9) Australian involvement in Exercise Bushido Guardian is, therefore, best viewed in that context: it is also not difficult to envisage how Australia might find itself part of 'real-war scenarios' due to its military alliances.
Any questions about nature of the military planning involved should also consider the following considerations: diplomatic and military planning and activity is steeped in protocol, ceremony and official procedure. Rank, together with seniority, takes precedence over all over considerations within a strictly imposed chain of command.
It is, therefore, important to note the three heads of US forces in Japan are a Lieutenant-General, a Brigadier-General and a Chief Master. (10) Under the reciprocal access military agreement between Japan and Australia, official liaison, however, is conducted through an ADF officer based in Japan and a Japanese officer in Australia, of the ranks of Major. (11)
Controlling the strictly need to know basis of all military communications, the official Pentagon press secretary has the rank of Brigadier-General. (12)
It is not particularly difficult to establish who is conducting the military planning, implementing policies and driving the continual stream of US-led regional war-games and exercises in the name of 'US interests':
We need an independent foreign policy!

1. Beware the sting in China's tale, Australian, 10 January 2023.
2. Ibid.
3. The reasons behind Washington's push for GSOMIA., Hankyoreh, 12 November 2019.
4. Japan shifts balance of power, Editorial, Australian, 16 January 2023.
5. Wikipedia: US-Japan Alliance.
6. Japan to nationalise 280 islands, The Age (Melbourne), 10 January 2014.
7. Japan puts disputed islands on school curriculum The, Age (Melbourne), 13 January 2023; and, Academics blast efforts to revise war history, The Age (Melbourne), 11 February 2015.
8. Wikipedia: Russia-Kuril Islands.
9. Editorial, Australian, op.cit., 16 January 2023.
10. Website: US Government.
11. Australia and Japan to strengthen defence co-operation, ADM., 2 December 2021.
12. US missiles sent to Japan to deter China, Australian, 13 January 2023.
Print Version - new window Email article
-----
Go back