Inter-imperialist rivalry and the Niger coup
Written by: Nick G. on 30 July 2023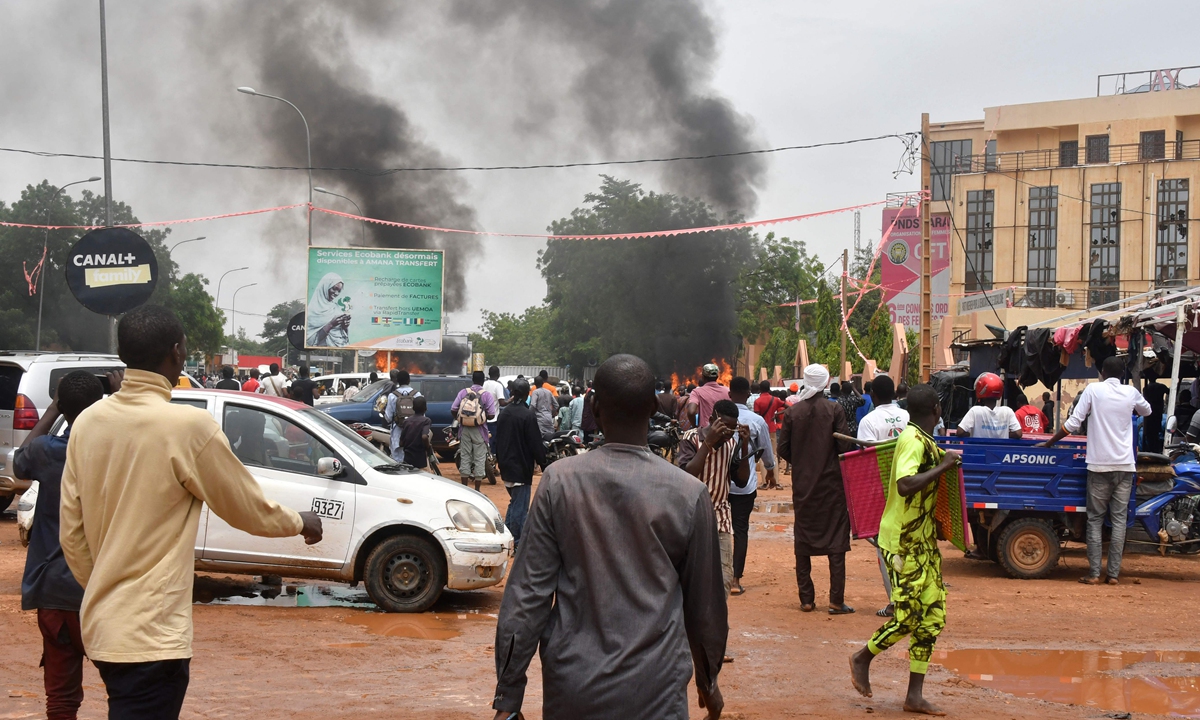 (Photo: VCG)
The military coup in Niger is proof that without genuine anti-imperialist independence, neither bourgeois democracy nor socialism can be secured.
Four days after Niger's democratically elected President Mohammed Bazoum was detained and removed in a coup led by members of his presidential guard, details of the rivalry for influence and control between various imperialist powers is emerging.
Background
This relatively large and landlocked African nation has a population of 25 million, nearly all of whom are Muslims. Nearly 80% of Niger is Saharan Desert country. It was a French colony until 1960.
Niger's armed forces have a long history of military cooperation with France and the United States. As of 2013, the capital Niamey is home to a U.S. drone base. The country has had close ties to France since independence, and relies on French and US military support against Boko Haram jihadists from neighbouring Nigeria.
At Sochi in October 2019, Putin announced that Russia would supply Niger 12 Mi-35 attack helicopters to use against Boko Haram.
However, Niger also decided to take on board much of the French force expelled from Mali, and this has not gone down well with everyone. In September 2022, demonstrators took to the streets of Niamey carrying Russian flags and placards attacking the French. This was very similar to the pro-Russian rallies earlier in neighbouring Burkina-Faso.
Niger is also of interest as it is one of only a few African countries to have an arms deal with Turkey. The latter only supplies 0.5% of Africa's weaponry, but is keen to expand its influence on the continent. In June 2022 it was reported that Turkey had delivered six Bayraktar TB2 drones to Niger. The deal includes armoured vehicles and Hurkus light attack aircraft, the first Turkish manned aircraft to be exported.
The European Union earlier this year launched a 27-million-euro ($30m) military training mission in Niger. The US has more than 1,000 service personnel in the country. France has 1,500 soldiers, which conduct joint operations with the Nigeriens.
However, urban residents in Niger's bigger towns, faced with continuing threats from Boko Haram, have called for intervention by Prigozhin's Wagner mercenaries.
In the capital, Niamey, an opposition stronghold, according to an Al Jazeera report, several hundred people on Thursday gathered to chant support for the Russian military group Wagner while waving Russian flags. Later, they burned cars and ransacked the headquarters of the president's political party.
One of the protesters was quoted as saying, "We are tired of being targeted by the men in the bush … Down with the French people. We're going to collaborate with Russia now."
This explains the demands by the US imperialists for the restoration of the Niger government, and their threats to withhold financial support for Niger.
Imperialist rivalry promotes regional instability
Niger is part of Africa's unstable Sahel region which has seen eight coups in three years, and a growing presence of Wagner group soldiers in places like Mali, Burkina-Faso and the Central African Republic.
US Secretary of State Blinken visited Niger in March saying he wanted to promote stability in the region, imperial-speak for imposing US dictate to the exclusion of competing imperialist powers.
The Niger coup has corresponded with the opening in St Petersburg of the Second Russia-Africa Summit. Just 17 heads of African states are attending this year, less than half of the 43 heads of state that attended the 2019 conference. Russia has lost some influence across the continent in the wake of its aggression against Ukraine, a major grain supplier to African countries, and is keen to recover some of that lost influence.
The great African continent has suffered more than any other from the ravages of imperialism.
We stand with all African peoples struggling for liberation and socialism.
……………
For further reading on Africa, see our Russia's New African Adventure.
Print Version - new window Email article
-----
Go back