Port of Darwin upgrades for military and commercial interests
Written by: (Contributed) on 5 August 2023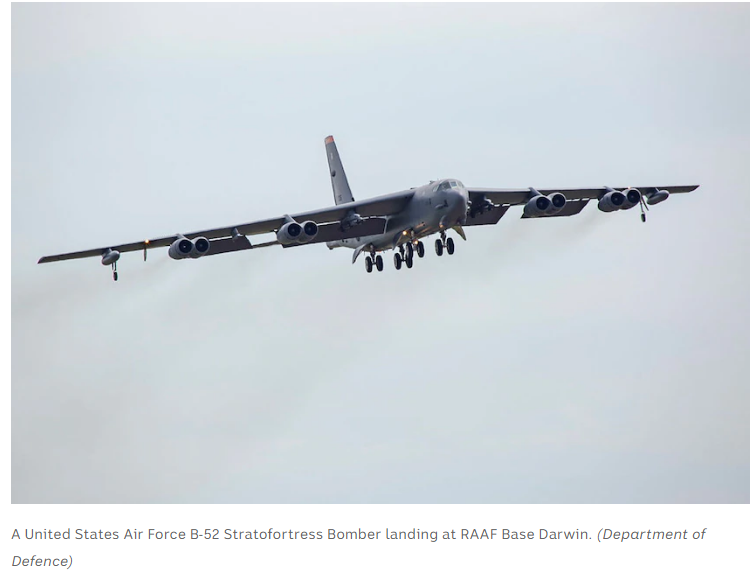 The following article was submitted to us before yesterday's disclosure – from US budget sources and not from the Australian puppet government - that another US Air Force base is to be built outside Darwin. This latest spending push follows the US outlaying around $270 million to build 11 giant jet fuel storage tanks near Darwin's main port. The US has complete control over the Australian government and its Department of Defence. Albo, Wong and Marles are enthusiastic cheerleaders for the US warmongers – eds.
Port of Darwin upgrades for military and commercial interests
A plan to develop the Port of Darwin would appear part of other, Cold War military and security provision, designed to strengthen northern Australia. The plan was tabled at the same time as US-led attention has been increasingly focussed on the South Pacific, where fears have been raised about China's longer-term investment and development programs.
Australia's historical focus on the South Pacific has been primarily based on that of a sub-imperial power, acting under US tutelage, with neo-colonialism an important consideration. The same forces appear to be the main factor to upgrade the Port of Darwin; and moves appear well under-way.
A plan to upgrade the Port of Darwin was presented in mid-July by the Aurizon Holdings Ltd business organisation. The ambitious plan included transforming the existing facilities to create Darwin as a major Australian port; diagrams of the plan show Darwin feeding other Australian ports across land. (1) Rail links between Darwin and Adelaide were also included, together with a large amount of data outlining trade volumes and logistics for containers. (2) No reference was made to 'dual use' infra-structure whereby the military can take control of useful facilities in time of national emergency: Adelaide, for example, is the 'defence state', and home to numerous defence industries.
In a diplomatic statement about the 2023 AUSMIN meetings, the defence industries were regarded as particularly useful for developing AUKUS technologies; an indication the issue was an agenda item for the high-level diplomatic meetings. (3)
In recent times Canberra has also pushed the idea of upgrading northern Australia as part of military and security provision; a number of military facilities have been targeted for upgrades, in line with increased US troop rotations for rapid deployment into the wider Indo-Pacific region. (4) The moves have also included closer diplomatic links between Australia and New Zealand for plans 'to work more actively in the Pacific to counter growing Chinese influence'. (5)
Both countries are dominant players in regional diplomacy through their membership of the elite US-led Five Eyes intelligence networks. Their membership of the British Commonwealth, likewise, has provided them with close diplomatic links with counterparts across the Indo-Pacific region.
It is also not coincidental that Darwin is already regarded by the US as a support centre, with an arc swinging through Diego Garcia in the Indian Ocean and Guam in Micronesia, which host regional and global intelligence facilities for the Pentagon. (6)
The South Pacific countries of PNG, the Solomon Islands and Vanuatu, have also long been regarded as belonging to Australia's zone of regional influence While they have their own intelligence facilities and defence and security provision, they have historically been over-ridden by Australian facilities and, in turn, by US-led facilities. Australia has had the role of a sub-imperialist power, operating along guidelines for the protection and extension of 'US interests'. (7) The economic development of the South Pacific countries, furthermore, has never been a serious agenda item for Canberra.
Concerns, therefore, have been raised, in recent times, about the Solomon Islands and the administration of Prime Minister Manasseh Sogavare's and their, 'increasingly close relationship with Beijing and his attacks on Australia and the US'. (8) It has been noted, for example, that, 'Chinese aid is attractive to the Solomon Islands because it largely stays in the Solomon Islands; Australian aid does not … it is … a form of boomerang aid that simply returns to Australia'. (9) Diplomatic relations between Canberra and Honiara have, therefore, proved problematic, with Sogavare portrayed in an unfavourable light.
The announcement of the plan to upgrade the Port of Darwin has also coincided with the International Seabed Authority agreeing to a two year 'road map of adoption of deep-sea mining regulations'. (10) It was noted that mining companies have been assessing the financial viability of rare earth minerals used for clean energy technologies including electric car batteries, on the abyssal plain reaching from Hawaii to Mexico, at 37 degrees north, 160 degrees-110 degrees west; the vast region and deep oceans are now possible to mine with autonomous underwater vehicles to extract minerals from the seabed. (11) The wider oceanic area covers more than half the planet, three kms underwater, or even deeper.
The so-called critical minerals are considered a serious matter for the US, who compete with China for access across the Indo-Pacific region. The fact China has recently increased its diplomatic presence across the Pacific to countries which possess enormous Exclusive Economic Zones (EEZs), has become a major factor in explaining the frantic nature of US diplomacy during the past few years. China now has about eighty per cent of diplomatic relations with the Pacific countries and their EEZs, as opposed to only about twenty per cent retaining links with Taiwan and the US. (12) It is, therefore, important to note that AUSMIN media releases state the US is seeking expanded co-operation in the Indo-Pacific. (13)
And if there is any controversy over the role of the US and what they regard as their regional interests and foreign policy, a diplomatic statement issued about the 2023 AUSMIN high-level talks, gave reference to 'Australia's backyard', in relation to the Pacific, and, that, 'critical minerals provide a particularly good example of an area in which Australia can make an out-sized contribution to the resilience of the US alliance and region'. (14)
No reference, however, was made to 'US interests': We need an independent foreign policy!
1. Aurizon's ambitious plan for Darwin's port, Australian, 19 July 2023.
2. Ibid.
3. 'Stay Tuned', The New Daily, 28 July 2023.
4. See: Defence – Special Report Supplement, Australian, 25 May 2023.
5. Anzacs to be 'more active' in the Pacific, Australian, 26 July 2023.
6. See: Peters Projestion, map of the World, Actual Size.
7. See: Sub-Imperial Power, Clinton Fernandes, (Melbourne, 2022).
8. Anzacs, Australian, op.cit., 26 July 2023.
9. Sub Imperial Power, op.cit., The South West Pacific, pp. 94-7.
10. Forget mining, unknown biodiversity is the true treasure of the Pacific floor, Australian, 26 July 2023.
11. Ibid.
12. US v. China, Japan Forward: Politics and Security, China now controls 80% of the Pacific EEZ., Dr. Rieko Hayakawa and Jennifer L. Anson, 14 February 2020.
13. 'Stay Tuned', New Daily, op.cit., 28 July 2023.
14. Ibid, and, Economics, security and our critical minerals, Australian, 26 July 2023.
Print Version - new window Email article
-----
Go back