University protests: welfare not warfare!
Written by: Nick G. on 9 August 2023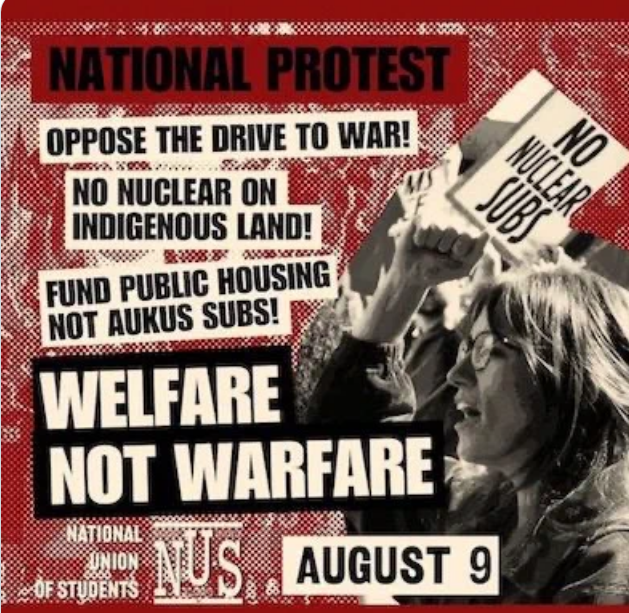 The National Union of Students (NUS) is holding a nationwide protest today against the increasing militarisation of tertiary education and its complicity in the US drive to war.
Ironically, the protests come just days after the University of Adelaide announced a new partnership with British multinational Babcock, which has the contract for the maintenance of British submarines.
Babcock Managing Director (AUKUS & International) Sir Nick Hine and University of Adelaide Vice-Chancellor and President Professor Peter Høj AC signed a Memorandum of Understanding (MoU) to work closely together on August 6.
According to a University press release, Babcock and the University will "work together on developing Australia's defence workforce and skills through new initiatives and projects to support current defence programs and the AUKUS program, including the delivery of the nation's first nuclear-powered submarines".
It is hoped that those skills will enable Babcock employees to do a better job than the ones who were reported last January to have used glue to fix broken bolts in a nuclear reactor chamber.
The repairs to cooling pipes were discovered on HMS Vanguard after a bolt fell off during checks.
It was reported that the heads of bolts had sheared off after being over-tightened but, rather than fix the broken shafts, workers for Babcock allegedly glued the heads of the bolts back on instead.
It makes a joke of Babcock's claims to being "a proven, trusted leader in sustainment, nuclear safety and stewardship".
The NUS is demanding that universities stop relying on funding from the big merchants of death whose profits come from the drive to war.
They are opposed to what Professor Peter Høj enthusiastically referred to on 21 July as "research commercialisation initiatives that will strengthen Australia's defence capabilities and assets". This was part of his announcement that the University of Adelaide and the University of NSW had joined a Defence Trailblazer program which "draws together industry and academia to create the workforce and technologies" that support the drive to war. WA's Curtin University is also part of the program, with other universities expected to join.
The Trailblazer project has a government commitment of $50 million in cash over four years, which will be matched by $50 million of funding from the two universities. More than $140 million will be invested in the project by over 50 industry partners located around the country bringing the total value of the program to approximately $250 million.
Links between armaments and weapons manufacturers and universities have proliferated in recent years. Between them, the three SA unis, Flinders University, University of South Australia and University of Adelaide, have, or have recently had, ties to BAE Systems, Thales, Lockheed Martin, Raytheon and SAAB Systems and more.
The links follow a Morrison government initiative which saw fees for STEM subjects reduced by 20%, but fees for humanities courses in some cases doubled. Courses which could encourage critical enquiry are being made to subsidise courses in vocational training for the military.
At Adelaide University about 50 students rallied and marched into the Engineering Building to demand that this faculty stop prostituting itself to commercial and military interests. A large number of cops and university security followed them, a far cry from Moratorium days when cops were kept off campus. No arrests were made.
The NUS demands are correct and must be supported.
Print Version - new window Email article
-----
Go back