Capitalism's destructive war on nature causing ongoing extreme weather events.
Written by: Nick G. on 22 August 2023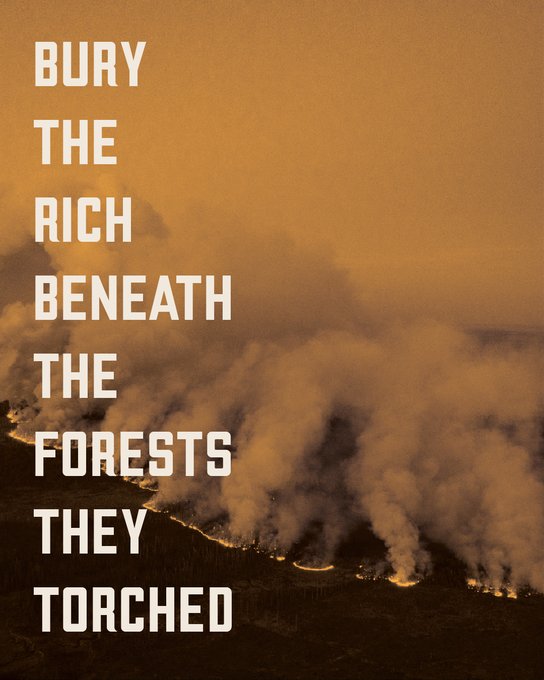 (Artwork courtesy Earth Liberation Studios)
As I write today, there are still bushfires burning in parts of New South Wales after a weekend on which more than 70 bush or grass fires were being fought.
The official start of the NSW fire season is October 1, but the NSW Rural Fire Service says that the season has already started in six areas in the north of the state.
Globally, there has been country after country in which wildfires, some unprecedented in scope and intensity, have occurred – some still not under control.
Canada still burning
Canada is in the midst of its worst wildfire season, with more than 5,700 fires recorded so far this year.
More than 137,000 square kilometres have been burned from one end of Canada to another, twice the size of the worst affected areas in the past. At this moment, more than 1000 Canadian fires are being fought, with assistance from overseas fire fighters.
Just two days ago, thousands of residents from Tenerife in Spain's Canary Islands had been evacuated as a wildfire authorities deemed "out of control" raged on for a fourth day.
The Canary Islands emergency services said more than 26,000 people had been evacuated by Saturday afternoon, according to provisional estimates, a sharp rise from 4,500 on Friday. Some 11 towns have now been affected.
The fire was at a scale never been seen before in the Canary Islands, Tenerife Council President Rosa Davila told reporters.
The Tenerife evacuation mirrored that of the Greek island of Rhodes. Multiple wildfires in Greece started on 17 July 2023. They resulted in at least seven deaths and injured more than 20 people, and burned dozens of areas in parts of Greece. Tens of thousands of people were evacuated from Rhodes as firefighters struggled to deal with the blaze. Many had to flee the fires on foot.
The current heatwave engulfing Greece is set to be the longest in its history, lasting nearly three weeks, surpassing the 1987 heatwave.
Following two deadly fire seasons in 2021 (90 lives lost) and 2022 (37 lives lost), Algeria was again consumed by wildfires this July in which 34 people died.
Italy, Croatia, Turkiye and Tunisia were also battling wildfires this July. In the second week of August, hundreds of firefighters battled wildfires in Portugal where 1,400 people had been evacuated in a 46C heatwave.
In Hawaii, the death toll from the Maui wildfires has risen to 111 with as many as 1,000 still missing.
During June, Beijing and parts of northern China experienced record temperatures, with authorities urging people to limit their time outdoors. The Nanjiao observatory in southern Beijing for the first time recorded temperatures above 40 degrees Celsius for a third consecutive day, according to the China Meteorological Administration.
If it's not one thing, it's the other
No wonder people are apprehensive about the proliferation of extreme weather events. Rainfall and flooding on an unprecedented scale are matching bushfires in their destructive intensity.
In January 2022 More than 72 millimetres were recorded in Lithgow - almost a month's worth of rain in just over an hour. People sat on rooftops waiting to be rescued. Insurers have walked away from such areas. In November 2022 there was further NSW flooding, with two people drowned. Floods also occurred across Victoria.
In late July, Typhoon Doksuri, a tropical super cyclone, hit the Philippines killing 137 and injuring many more. Passing into China's south-eastern province of Fujian, it set records for 24-hour rainfall totals, then moved north towards Beijing where, although weakened, it still caused havoc.
At the start of August, China's capital recorded its heaviest rainfall in at least 140 years as remnants of Typhoon Doksuri deluged the region, turning streets into canals where emergency crews used rubber boats to rescue stranded residents. The city recorded 744.8 millimeters (29.3 inches) of rain over three days. Last year's total rainfall in Beijing did not even top 500 millimeters (19.6 inches).
This week, Cyclone Hilary became the first tropical storm to hit Southern California in 84 years. It dumped more than half the average annual rain on some desert and mountain areas, including Palm Springs, which saw nearly 3 inches of rain by Sunday evening. Tens of thousands of people across Southern California had no power due to the storm.
Capitalism's global warming must bear responsibility
The frequency of extreme weather events has a cause, a responsibility. That cause is the increase in global warming. It occurs because of unrestricted carbon dioxide emissions. The gluttony of fossil fuel corporations is mainly responsible. They feel no compunction in placing profits before the planet.
Cyclones and rain bombs are related to the behaviour of the world's oceans. The oceans absorb 90 percent of CO2 emissions. A just-released report on the warming of the world's oceans shows rising sea water temperatures that are "off the scales". Rises in atmospheric and sea water temperatures lead to melting of polar ice caps and glaciers, reducing their ability to reflect sun's rays back into space.
It is the people of the world who suffer during extreme weather events.
We must bring the fossil fuel corporations to heel. They must be forced to stop their destructive activities.
Socialism alone can develop and sustain an economy in which there can be a balance struck between people's needs and the health of the planet we inhabit.
Together with all our other tasks, the fight against global warming must remain a priority.
Print Version - new window Email article
-----
Go back