Vanuatu: Military Exercises and Real-Life Dramas
Written by: (Contributed) on 30 August 2023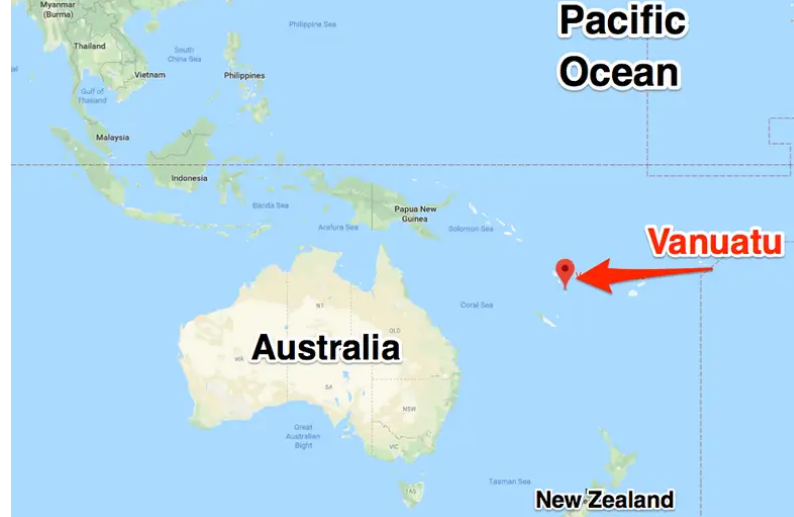 Google Maps/Christopher Woody
While the recent Exercise Predators Run was under-way in the Northern Territories, a real-life drama was being played-out in Vanuatu. The exercise was planned to prepare countries allied with the US Indo-Pacific Strategy (IPS) for military conflict in Australia's immediate northern region: the political crisis in Vanuatu, likewise, provided a vivid example of how diplomatic tensions can, potentially, escalate into real-war scenarios at quick notice, with far-reaching implications. It has also showed how the US-IPS is a military plan and part of US foreign policy toward the vast region, which has little scope, or any intention, of respecting the sovereignty of other countries.
During late August the twelve day Exercise Predators Run began, with a bare minimum of publicity. In fact, it was only publicised following the deaths of three US military personnel on Melville Island, about seventy kilometres north of Darwin. The military exercise, however, has been noted as a large-scale war-game with more than 2,500 troops from countries which form part of the US IPS: the US, Australia, The Philippines, East Timor and Indonesia, with land, sea and air military personnel. (1)
The exercise followed the recent Exercise Talisman Sabre, which was widely publicised.
The latter exercise and military planning was specifically concentrated upon the area of the region to the immediate north of Australia, and would appear to have been regarded by the Pentagon as sensitive. (2) A brief official media release about the exercise noted, for example, 'it aims to replicate a joint allied response to amphibious conflict to Australia's immediate north. It is one of a growing number of military exercises to prepare the ADF and allies for potential conflict'. (3) The exercise would, nevertheless, appear an important component part of the wider US-IPS, in the southern area of the region where Australia has the designated role of a major hub for 'US interests'. (4)
Situated from about 115 degrees east, to about 155 degrees east, the northern approaches of Australia include: the countries of the South Pacific, Indonesia, The Philippines, the South China Seas, and sensitive areas of the wider Pacific including Guam, which in turn is linked to Diego Garcia in the Indian Ocean on an arc from US intelligence facilities based in Pine Gap. The northern part of Australia is also littered with numerous military facilities, including: 1st Combat Signals, Darwin; 1st Signals, Brisbane; 3rd Signals, Townsville; Electronic Warfare, Cabarlah, Queensland. (5) Australian Defence Force military facilities at the Lavarack Barracks, Townsville, also host the 141st Signals Squadron together with numerous other sensitive and training units which were expanded during the previous Cold War due to conflict in South-East Asia. (6)
The new US-led Cold War with China has drawn heavily upon regional frameworks established decades ago, including those in Australia.
Moves by the US to establish the new Cold War included the re-use of numerous military facilities across the region, which were largely abandoned decades before, following the end of the Vietnam War. The re-use, however, has not involved large-scale military facilities, but emphasis is placed upon countries hosting temporary US presence, on a rotational basis. (7)
It is important to note, therefore, that initial US troop rotations through Australian facilities amounted to about two hundred in 2011, to 2,500, at the present time. (8) Similar increases have taken place elsewhere across the Indo-Pacific, as part of waves of US-led militarism.
The beginning of Exercise Predators Run also coincided with a regional diplomatic summit hosted by Palau which included the signing of a security pact for PNG, the Solomon Islands, Vanuatu and Fiji, with Australia. There was, again, a minimum of official publicity although a Joint Communique issued by the Defence Department, did, nevertheless, note the pact included, 'co-ordination … amongst … regional security agencies … to address multi-dimensional security challenges'. (9) The economic use of language conveyed a certain type of diplomacy, aimed at being transparent as a matter of expedience, although circumspect.
But then, even the best made of plans taking place in relative secrecy, can go astray.
Within days of the signing of the pact, M.P.s in Vanuatu crossed to floor to side with opposition figures who subsequently won a vote of no confidence against Prime Minister Ishmael Kalsakau, following opposition leader Bob Loughman lodging a petition against the government, 'for signing a security pact with Australia … with the claim … the security pact with Australia compromised Vanuatu's neutral status'. (10)
DFAT here in Australia are keeping a very low profile about the whole matter.
The fact the successful vote of no confidence took place in the middle of a highly strategic US-led military exercise is evidence in itself of hidden hands in a troubled diplomatic environment.
While the matter rests with the Supreme Court in Port Vila, it has been noted that Vanuatu has become the 'centre of strategic rivalry between China and western countries'. (11)
And then the following day China deployed their police to Vanuatu to support counterparts: the deployment took place under a diplomatic provision established between Vanuatu and China last year, with a five-point agreement designed to 'deepen strategic co-ordination … and regional co-operation'. (12)
It remains highly significant to note the developments have taken place with the bare minimum of publicity, although present Australia with a major defence and security problem
in the South Pacific. Acting on behalf of the US and their IPS, Australia has also been seen to have been drawn into the very real likelihood of real-war scenarios and to have complied with the US line of little, or no, respect for the sovereignty of countries such as Vanuatu:
We need an independent foreign policy!
1. The deadly cost of rising to challenge China aggression, Australian, 28 August 2023; and, 3 US marines killed, Boston.com., 27 August 2023.
2. Australian, ibid.
3. Ibid.
4. See: The reasons behind Washington's push for GSOMIA., Hankyoreh, 12 November 2019.
5. Wikipedia.
6. Ibid.
7. See: US eyes return to south-east Asian bases, The Guardian Weekly (U.K.), 29 June 2012; and, US signs defence deal in Asia, The Guardian Weekly (U.K.), 2 May 2014.
8. Australian, op.cit., 28 August 2023.
9. Australian Government, Defence, Joint Communique, Meetings, 23-24 August 2023.
10. China sends police experts to Vanuatu amid political crisis linked to Australian Pact, The New Daily, 27 August 2023.
11. Ibid.
12. China, Vanuatu reach five-point consensus, China.org.en., Xinhua, 2 June 2022; and, Chinese police experts, Radio New Zealand, 27 August 2023.
Print Version - new window Email article
-----
Go back