Celebrating the 60th anniversary of Australia's oldest revolutionary newspaper.
Written by: Nick G. on 1 September 2023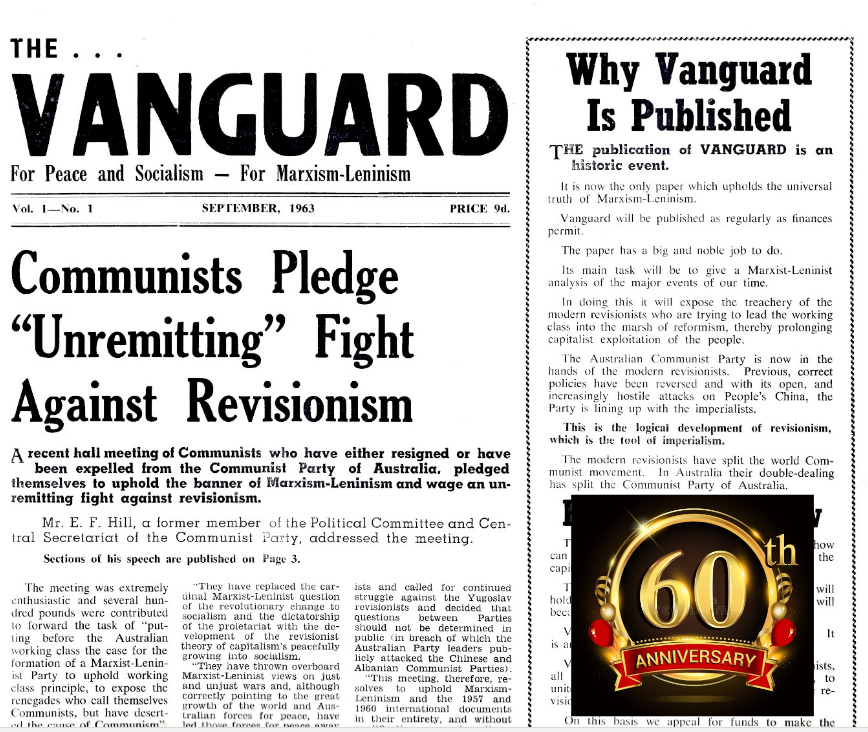 Vanguard, newspaper of the Australian Marxist-Leninists, was first published 60 years ago, in September 1963, predating by a few months the formation of the Communist Party of Australia (Marxist-Leninist) on March 15, 1964.
The first issue continued the work of those within the original Communist Party of Australia who had been battling to defend Marxism-Leninism in the CPA.
The contradiction between the sliding into reformism of the revisionists and the commitment to revolutionary politics and ideology upheld by the Marxist-Leninists, reached such levels of antagonism that a parting of the ways became inevitable. The Marxist-Leninists were either expelled or forced to leave the CPA. The first editions of Vanguard rallied the revolutionaries and led them organisationally, politically and ideologically towards the reestablishment of a genuine Marxist-Leninist Party, the CPA (M-L).
Vanguard continued as a hard copy newspaper until December 2014 when articles were transferred to the Party's website. Selected hard copy editions still occurred on important dates (eg the centenary of the October Socialist Revolution in 2017) and annually on May Day. However, the advantage of the online publication of Vanguard has been its greater reach (including on the Party's Facebook and Twitter accounts) and the immediacy of comments being able to be published on important events.
The online and occasional hard copy editions of Vanguard make it, at 60 years since that first edition, the oldest continuing revolutionary paper in Australia.
We are very grateful to all those who over the years, have contributed financially, organisationally, as writers and photographers, suppliers of information to be followed up, and distributors to the people. And we are equally grateful to those who continue to read the Vanguard.
Print Version - new window Email article
-----
Go back