The major powers and their South Pacific strategies
Written by: (Contributed) on 5 September 2023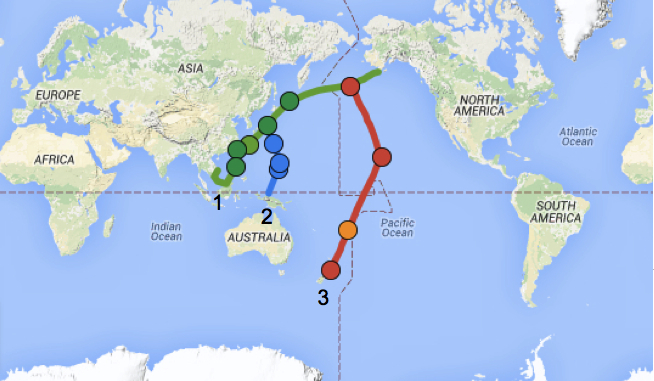 In late August a major diplomatic statement issued through a New Zealand university highlighted the continued significance of Island Chain Theory (ICT) for present-day US-led regional diplomacy across the vast Indo-Pacific Region. (1) While the theory was largely discredited, it has, nevertheless, been re-vamped for use in the present Cold War by the Pentagon and, at present, moves are also under-way to enlarge the scope by introducing fourth and fifth chains across the Indian Ocean to comply with the Indo-Pacific Command. (2) The existing scope of ICT rests upon three chains which have been strengthened by the US in an attempt to encircle and contain China's influence in the Asia-Pacific region. (see diagram)
While the US has implemented its Indo-Pacific Strategy (IPS), marked by the importance of the US-Japan alliance as central to global strategy, elsewhere Australia and New Zealand also have roles within their own localities, with specific reference to the South Pacific. (3) It is not coincidental that Australia and New Zealand form part of the elite US-based Five Eyes global intelligence sharing organisation: its regional eyes and ears.
Reference in the recent diplomatic statement to the Solomon Islands, therefore, have followed the set pattern of criticism of the Sogavare administration in Honiara: it noted, for example, 'Beijing was interested in the Solomon Islands because of its geographical location in the second island chain in the Pacific'. (4) The Solomon Islands is, indeed, a strategic part of the second chain, running from Japan to Western New Guinea, and a boundary for the Philippine Sea and islands in Micronesia including Guam which hosts numerous sensitive US military facilities. But, Prime Minister Sogavare has already stated, without ambiguity, 'Australia remains the security partner of choice', for the Solomon Islands. (5)
Speculation, nevertheless, has arisen about China using its favourable diplomatic links with the Solomon Islands in order to establish military facilities which would 'significantly change the strategic order which has prevailed in the Pacific since the end of WWII'. (6) No credible evidence was provided, or ever has been. Elsewhere, studies of the problem, however, have already established the US has become a declining regional power, with China presenting credible challenge to existing traditional hegemonic positions. (7)
The August diplomatic statement was contained in a larger article about problems of policing across the Pacific: the issue of effective governance remains a central concern in numerous countries which are relatively poor, political unstable and socially volatile.
Historically, Australia and New Zealand have taken a leading role in regional police training. Immediately prior to the independence of most Pacific countries in 1970, the Pacific Islands Chief of Police Forum was established in conjunction with their Australian and New Zealand counterparts on the basis of encouraging a 'Pacific First' response to regional security problems. (8)
In May, Canberra provided additional funding for the forum leading to the creation of the Australian Federal Police and Pacific Police Partnership, termed the AP4: other additional police organisation has included the Law Enforcement Co-operation Program, designed to strengthen the capability of Pacific police forces. (9)
Studies of the official websites for the Pacific Faculty of Policing Program Guide, 2022/23, reveal extensive educational and training facilities with a wide range of courses available on-line for distance learning techniques from basic training to higher management. (10)
Starting in late August, a regional meeting of 22 leading Pacific police officers has taken place. Included in the official media release was reference given to, 'this year's conference comes at a time of increased tension, when China is seeking to establish policing deals as part of its growing footprint across the region'. (11) Elsewhere in the media release it was noted, 'the Pacific is an increasingly complex environment that faces multifaceted security challenges and a dynamic geopolitical environment'. (12) The latter statement is best understood in the context of the former, whereby US-led Cold War considerations have been prioritised.
While there is little doubt serious law and order problems exist in the Pacific, and particularly the South Pacific: recent coverage of ethnic and inter-ethnic killings in PNG, for example, leave little to the imagination or idle speculation. In both the Solomon Islands and Vanuatu similar problems remain an ever-present concern in a highly volatile environment.
Yesterday, September 4, in Vanuatu there was a change in Prime Minister, with the incoming Sato Kilman immediately saying that the security pact signed with Australia last December could harm his country's relationship with China. Saying, "We are not pro-West, and we are not pro-Chinese. We adopt a non-aligned policy," Kilman foreshadowed a redrafting of the agreement before it could be ratified by Vanuatu's parliament. (13)
Meanwhile, last week, controversy again flared in the Solomon Islands as leaked US cables suggested that replica firearms supplied by China to the local police for training purposes in March 2022, were not replicas at all, but real weapons. (14) The Solomon Islands has also received Australian weapons and vehicles.
It would, however, be a remarkably naive observer to conclude that merely strengthening Pacific police forces is taking place to safeguard ordinary workers and subsistence farmers.
The moves, to the contrary, highlight the ability of the US to push their Cold War diplomatic agendas onto Australia and New Zealand to act as their regional hubs for 'US interests':
We need an independent foreign policy!

1. Policing confusion in wisdom of the Solomons, Australian, 29 August 2023.
2. Wikipedia: Island Chain Theory.
3. See: The reasons behind Washington's push for GSOMIA., Hankyoreh, 12 November 2019.
4. Australian, op.cit., 29 August 2023.
5. Ibid.
6. Ibid.
7. See Study: US no longer dominant power in the Pacific, Paul D. Shinkman, Information Clearing House, 22 August 2019.
8. AFP bolsters Pacific police ties, Australian, 31 August 2023.
9. Ibid.
10. See websites: Pacific Faculty of Policing Program Guide, 2022/23; and, Australian Federal Police helps train, The Tribune, 8 February 2023.
11. Australian, op.cit., 31 August 2023.
12. Ibid.
13. Future of Australia-Vanuatu security pact in doubt after Pacific Island nation picks new PM - ABC News
14. Solomon Islands MPs demand answers over 'replica' guns from China | Weapons News | Al Jazeera
Print Version - new window Email article
-----
Go back